Eagle Hospitality Trust's Porfolio
Diversified portfolio of primarily freehold, internationally branded hotels, across 11 major U.S. metropolitan statistical areas.
The Initial Portfolio is categorised based on the primary demand generator at each property, namely (1) Corporate-led hotels, (2) Leisure-led hotels and (3) Airport hotels. Most of the properties also have multiple secondary demand drivers, which provide income diversity and stability.
Summary of Portfolio
| | |
| --- | --- |
| Number of Hotel Properties | 18 |
| Portfolio Valuation | US$1.27 billion1 |
| Number of Available Rooms | 5,420 |
| Land Tenure | 17 out of 18 Assets Freehold |
| Service Segment | Full Service |
| Market Segment | Upper Midscale to Upper Upscale |
| | |
| --- | --- |
| 1 | Based on the adopted value of each of the Properties, which is the independent valuation by HVS (as at 31 December 2018) |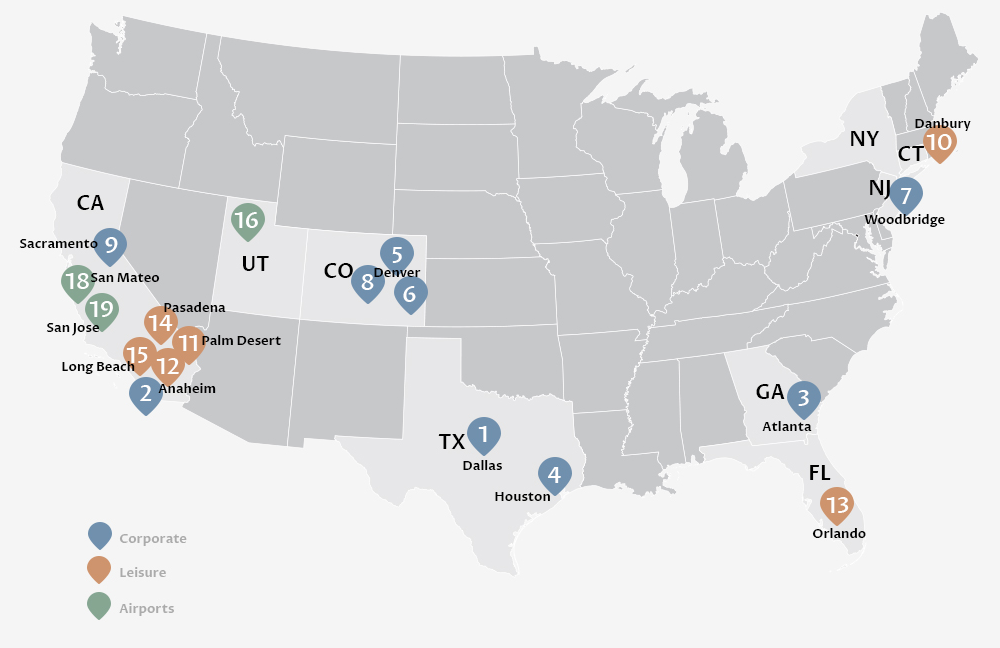 CA - California
UT - Utah
CO - Colorado
TX - Texas
GA - Georgia
FL - Florida
NY - New York
CT – Connecticut
NJ - New Jersey
CA
Sacramento
San Mateo
San Jose
Pasadena
Salt Lake City
Palm Desert
Long Beach
Anaheim
Hilton Atlanta Northeast
| | |
| --- | --- |
| Year of Completion | 1986 |
| Completion Date of Last Renovation | December 2018 |
| Market Segment | Upper Upscale |
| Land Tenure | Freehold |
| Hotel Franchisor | Hilton |
| Adopted Valuation | US$55.4 million |
Sheraton Pasadena
| | |
| --- | --- |
| Year of Completion | 1975 |
| Completion Date of Last Renovation | Expected May 2019 |
| Market Segment | Upper Upscale |
| Land Tenure | Freehold |
| Hotel Franchisor | Marriott |
| Adopted Valuation | US$114.2 million |
Renaissance Woodbridge
| | |
| --- | --- |
| Year of Completion | 1986 |
| Completion Date of Last Renovation | Expected May 2019 |
| Market Segment | Upper Upscale |
| Land Tenure | Freehold |
| Hotel Franchisor | Marriott |
| Adopted Valuation | US$76.6 million |
Hilton Houston Galleria Area
| | |
| --- | --- |
| Year of Completion | 1978 |
| Completion Date of Last Renovation | Expected May 2019 |
| Market Segment | Upper Upscale |
| Land Tenure | Freehold |
| Hotel Franchisor | Hilton |
| Adopted Valuation | US$48.6 million |
Crowne Plaza Dallas Near Galleria-Addison
| | |
| --- | --- |
| Year of Completion | 1984 |
| Completion Date of Last Renovation | March 2019 |
| Market Segment | Upscale |
| Land Tenure | Freehold |
| Hotel Franchisor | IHG |
| Adopted Valuation | US$57.8 million |
Holiday Inn Denver East – Stapleton
| | |
| --- | --- |
| Year of Completion | 1973 |
| Completion Date of Last Renovation | September 2018 |
| Market Segment | Upper Midscale |
| Land Tenure | Freehold |
| Hotel Franchisor | IHG |
| Adopted Valuation | US$50.6 million |
Renaissance Denver Stapleton
| | |
| --- | --- |
| Year of Completion | 1985 |
| Completion Date of Last Renovation | September 2018 |
| Market Segment | Upper Upscale |
| Land Tenure | Freehold |
| Hotel Franchisor | Marriott |
| Adopted Valuation | US$88.2 million |
Sheraton Denver Tech Center
| | |
| --- | --- |
| Year of Completion | 1985 |
| Completion Date of Last Renovation | December 2013 |
| Market Segment | Upper Upscale |
| Land Tenure | Freehold |
| Hotel Franchisor | Marriott |
| Adopted Valuation | US$31.7 million |
Holiday Inn Resort Orlando Suites – Waterpark
| | |
| --- | --- |
| Year of Completion | 1999 |
| Completion Date of Last Renovation | August 2018 |
| Market Segment | Upper Midscale |
| Land Tenure | Freehold |
| Hotel Franchisor | IHG |
| Adopted Valuation | US$162.8 million |
The Westin Sacramento
| | |
| --- | --- |
| Year of Completion | 2008 |
| Completion Date of Last Renovation | December 2015 |
| Market Segment | Upper Upscale |
| Land Tenure | Freehold |
| Hotel Franchisor | Marriott |
| Adopted Valuation | US$43.6 million |
Embassy Suites By Hilton Palm Desert
| | |
| --- | --- |
| Year of Completion | 1984 |
| Completion Date of Last Renovation | February 2018 |
| Market Segment | Upper Upscale |
| Land Tenure | Freehold |
| Hotel Franchisor | Hilton |
| Adopted Valuation | US$32.1 million |
The Queen Mary Long Beach
| | |
| --- | --- |
| Year of Completion | 1936 |
| Completion Date of Last Renovation | December 2018 |
| Market Segment | Upscale |
| Land Tenure | 66 years from 1 Nov 2016 |
| Hotel Franchisor | Independently operated |
| Adopted Valuation | US$159.4 million |
Embassy Suites By Hilton Anaheim North
| | |
| --- | --- |
| Year of Completion | 1987 |
| Completion Date of Last Renovation | November 2018 |
| Market Segment | Upper Upscale |
| Land Tenure | Freehold |
| Hotel Franchisor | Hilton |
| Adopted Valuation | US$50.8 million |
Holiday Inn Hotel & Suites Anaheim
| | |
| --- | --- |
| Year of Completion | 1978 |
| Completion Date of Last Renovation | April 2017 |
| Market Segment | Upper Midscale |
| Land Tenure | Freehold |
| Hotel Franchisor | IHG |
| Adopted Valuation | US$77.9 million |
Crowne Plaza Danbury
| | |
| --- | --- |
| Year of Completion | 1980 |
| Completion Date of Last Renovation | December 2018 |
| Market Segment | Upscale |
| Land Tenure | Freehold |
| Hotel Franchisor | IHG |
| Adopted Valuation | US$12.0 million |
Four Points by Sheraton San Jose Airport
| | |
| --- | --- |
| Year of Completion | 1986 |
| Completion Date of Last Renovation | Expected May 2019 |
| Market Segment | Upscale |
| Land Tenure | Freehold |
| Hotel Franchisor | Marriott |
| Adopted Valuation | US$69.1 million |
DoubleTree by Hilton Salt Lake City Airport
| | |
| --- | --- |
| Year of Completion | 1980 |
| Completion Date of Last Renovation | Expected May 2019 |
| Market Segment | Upscale |
| Land Tenure | Freehold |
| Hotel Franchisor | Hilton |
| Adopted Valuation | US$60.9 million |
Holiday Inn Hotel & Suites San Mateo
| | |
| --- | --- |
| Year of Completion | 1991 |
| Completion Date of Last Renovation | June 2018 |
| Market Segment | Upper Midscale |
| Land Tenure | Freehold |
| Hotel Franchisor | IHG |
| Adopted Valuation | US$76.5 million |